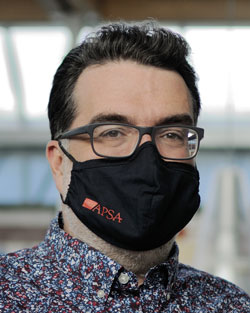 It's déjà vu all over again – Yogi Berra
Welcome back (!?). I started a draft of this communication before the winter break with the intention of welcoming APSA members back, but I realize that, in reality, many of you never left or never had the chance for a break. Many members were on campus dealing with weather challenges, many of you were re-re-transitioning (is that even a thing?) to online/hybrid brought on by the last-minute decision to have online classes, and many of you were dealing with the personal impacts of the Omicron variant of COVID-19. It's important to recognize that events conspired so that many APSA members effectively had no break to revitalize, de-compress, or de-stress. For many, that winter break felt like a time-warp back to March of 2020.
Prior to the break, APSA successfully concluded bargaining with the University and announced arbitrator Jim Dorsey's award. At that time, some members approached the APSA team with the feedback of "We went to arbitration for this???" So, I wanted to take the time to provide context and explain how we got to that arbitrated award.
Going back in time to March of 2020, APSA hadn't yet begun bargaining with the University while other employee groups (like CUPE) had begun bargaining and, in some cases, were close to a deal. Then COVID hit. In the interests of pursuing a collaborative relationship with the University and understanding the challenges brought on by COVID, we suggested to SFU that we engage in an expedited negotiation process and try to reach a quick deal. The University agreed.
Except…
The University responded with an immediate offer for APSA's signature with 2/2/2 (e.g. a 2% salary increase per year). This was despite the fact that the University and APSA knew that PSEC (the provincial entity which sets the bargaining mandate) had authorized 2/2/2 PLUS a 0.25%/year "sustainable services mandate." In addition, the University had either reached an agreement or was about to reach agreement with other employee groups on just that – the 2/2/2 PLUS an amount for that sustainable services mandate. 
I was incensed. APSA had made a good faith offer to the University to act collaboratively and quickly in recognition of the unprecedented times in which we were in. In my opinion, the University's response looked to take advantage of APSA's goodwill and offer us less than what was being offered to the other employee groups.
I was grateful, however, to our bargaining committee (then chaired by Jo-Anne Ray and later Kris Nordgren). They took everything in stride and indicated to the University that, given their offer, instead of proceeding on an expedited basis, it was best to commence the regular bargaining process.
In bargaining, it's important to look at what you accept, but also what you reject. APSA's communications coordinator has prepared an infographic comparing what we asked for and what the University proposed. One of the University's items was to transition our benefits from our current system to a generic drug system (see the infographic for the full details) with a cap on fees. I'm glad that our committee was able to keep this serious concession out of the final award.
I'm also glad that our bargaining committee was able to get not just retroactive payment for the salary increases, but also a lump sum payment for the Professional Development Fund increases that should have been put in place in 2019. In my mind, this is a reasonable "ask" when bargaining takes as long as it did or is delayed to the point that our agreement was delayed.
Despite all of the above, APSA looks to the next round of bargaining (in six months) with some encouragement. In Dorsey's award, he said he:
"wish(es) the negotiators more success in their ongoing relationship."
And the University responded directly to APSA, stating:
"We take particular note of Mr. Dorsey's concluding comment and look forward to strengthening our relationship in 2022."
As APSA president, I, too, am hopeful that we can turn the page with the University on the challenging aspects of our most recent bargaining round and strengthen the relationship to have a smoother bargaining process in 2022.
Sincerely,
David