Meet Allan Black, QC; APSA's Legal Counsel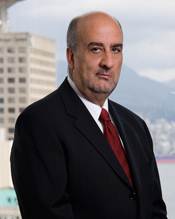 Allan Black's reputation among his peers is impeccable. His rating for his legal ability and sense of ethics by the Martindale-Hubbell Peer Review is excellent. He received a nomination for the Peter S. Hyndman award for excellence in mentorship. Overall he is rated, by his peers, as one of the best labour and employment lawyers in Canada.
Allan received both his bachelor of arts and LLB at the University of British Columbia. He trained at the Harvard Law School in negotiation and mediation. He was called to the BC bar in 1970 and was appointed Queen's Counsel in 1999. Allan is also a former vice-chair of the British Columbia Labour Relations Board and has acted as an arbitrator in numerous grievances. He also served as the chair of the Labour Subsection of the BC Branch of the Canadian Bar Association.
When asked about why he chose labour law, Allan replies, "The firm that I began with, commencing before I was still in law school, was a law firm whose client base primarily represented "union side" organizations and trade unions. That was not my original intention when I went to law school, but I quickly learned about the practice and developed a profound love of the work that I was fortunate to do, representing these organizations on behalf of their membership in all aspects of upholding and improving their terms and conditions of employment. I continue to love all the work that I do, still finding each and every day's work both fulfilling and satisfying."
He brings extensive experience representing employee groups in all aspects of labour relations, employment, administrative, human rights and education law to APSA and has counselled APSA and AAPS (APSA's sister association at UBC) on many issues.
My role with respect to APSA, and its membership, as with any similar organization, is to provide guidance, legal advice, recommendations and representation (when asked to do so). Decisions made with respect to grievances, arbitration collective bargaining are made by the organization itself, not me. My role is to investigate and assess the facts, consider the applicable law and the past practice (if there is any) and give the best impartial and fair advice that I can give. This provides the organization with a basis (amongst other factors that they may consider) in making a  decision that is neither arbitrary nor discriminatory and made in good faith."
Allan has been an author and guest speaker on a variety of labour relations topics for Continuing Legal Education programs and other seminars. Allan is a member of the Arbitrators' Association of British Columbia, the Canadian Bar Association, and the Canadian Association of Labour Lawyers.