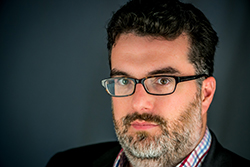 As many of you know, the transit strike took effect on Friday, November 1. As I've mentioned before, I'm the Director of Parking & Sustainable Mobility Services. We're currently strategizing on offsetting the impact that the strike will have on the SFU community.
We are already near the end of the year, and in November, we usually hold APSA's annual general meeting (AGM).
I wanted to speak about the importance of APSA members attending these meetings. Here are a few reasons why you should come to the AGM.
Learn about what APSA has been doing for its members over the past year.
We present you, our members, with what we've been doing over the past year. The president's report and summary, as well as the chairs reports and finances, gives you a good indication of what happened over 2018 to 2019.
Learn about what APSA's plans are for the upcoming year.
The president also discusses what APSA's plans are for the following year and the direction that the Board of Directors and APSA are moving the membership.
Ask questions directly to the spokesperson of the board and the chairs of the committees.
If, after reading the reports, financials or any other documents on the AGM agenda page, you are confused about something, you can ask for an explanation directly from the right person. We encourage engagement from our APSA members.
Meet the new board members.
Finally, we say goodbye to our outgoing members of the board and welcome new board members, as elected by you. It's an excellent chance to welcome new board members and thank the outgoing members for their time.
I'm looking forward to seeing you in person or on the videocast on November 20.