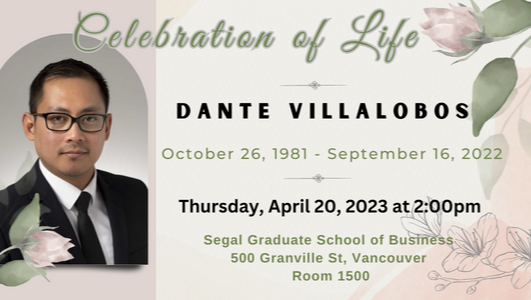 Mat Cocuzzi, Associate Director of Facilities Services recently posted the following update on the GoFundMe page for Dante Villalobos's family:
".I wanted to let you know that we will be hosting a Celebration of Life for Dante at SFU. This celebration will be an opportunity for us all to come together, remember the good times, and reflect on all that he brought to our lives and SFU. All are welcome. We hope that you can join us.
"When: Thursday, April 20, 2023, at 2 p.m.
"Where: Segal Graduate School of Business. 500 Granville St, Vancouver, Room 1500.
"Kindly RSVP by April 16: https://www.surveymonkey.ca/r/M3VM5JR
"Kind regards,
"Mat"