APSA Temp Orientation (New to University)
Date(s):
Wednesday March 6th, 2019 12:00 pm
Log in if you want to sign up for this event!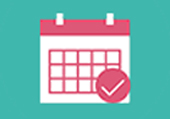 Currently, Temporary Employees who are new to the University and CUPE employees who move into an APSA position in either a continuing or temporary basis do not attend HR's monthly New Employee orientation sessions.
These orientation sessions include a 1.5-hour portion with APSA to go over the AD 10 polices, which are all APSA member's terms and conditions of employment.
We've found that this has created a knowledge gap for new APSA Temps and CUPE to APSA members.